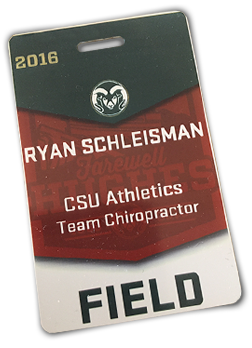 Why choose a Certified Sports Chiropractor vs. a "regular" Chiropractor?
Certified Sports Chiropractors are the best in chiropractic for people of all activity levels – high caliber athletes, recreational athletes or those seeking to feel great engaging in daily activities.
10 things you should know about Certified Sports Chiropractors:
Possess specialized knowledge of sports injuries and physical fitness.
Are experts in the function of the body during movement, from high-level athletics to everyday activities.
Can help optimize performance enhancement by applying an advanced understanding of musculoskeletal function and athletic training.
Offer individualized care that extends beyond spinal adjustment to include direct treatment of muscles, joints and connective tissues.muscles, joints and connective tissues.
Focus on total body wellness and reaching optimal functioning, not just reducing pain.
Are immersed in the latest sports medicine research, trends and treatment techniques.
Can integrate seamlessly with other healthcare practitioners to optimize your medical care.
Are passionate proponents of physical fitness and skilled sports medicine
practitioners.
Will help you achieve YOUR peak performance with a breadth and depth of
knowledge found only in their specific training.
Compromise the top tier of the chiropractic profession.
The Benefits Fort Collins-Area Residents are Experiencing:
for athletes
Faster recovery from injury – get back to play sooner
Access to wider range of treatment tools
Expertise in high-performance athletics and preventive strategies
Guidance for athletic training
Sports nutrition consulting
Individualized treatment and specialized chiropractic techniques
Sports-specific treatment and preventive exercises
Ability to integrate treatment with training
Chiropractic Associates Specialties
Sports injury Diagnosis, Treatment and Prevention
Rehabilitation exercises
Emergency procedures
Pre-participation examinations
Sports nutrition
Joint supports and taping
Exercise prescription / Sport-specific athletic training